When:
2023-10-07T00:00:00-04:00
2023-10-08T00:00:00-04:00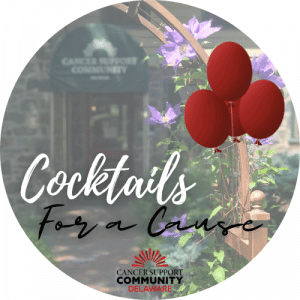 CSCDE is excited to announce the 18th Annual Cocktails for a Cause: A Red Balloon Signature Event, on Saturday, October 7th 2023. We will be hosting our evening cocktail party on the beautifully historic grounds of our Lancaster Pike headquarters. Guests are invited to enjoy cocktails, hors d'oeuvres, music and dancing, all while mingling with fellow supporters of CSCDE. The evening includes live and silent auctions.  The event raises both funds and awareness for Cancer Support Community Delaware.
Each year, we ask members of the community to act as the host committee for Cocktails for a Cause. Members of the host committee are passionate about Cancer Support Community Delaware's mission and committed to ensuring that no one faces cancer alone.
As a member of the committee we would ask for you to consider-
 A $250/single or $500/couple donation which will include admission.
 Grant permission for CSCDE to use your name on the Cocktails for a Cause invitation, program, website, and all printed or social media event marketing.
Host Committee
The Honorable Peggy Ableman and Joseph Predergast
Cyndi and Joe Amon
Barbra Andrisani
Kristen Williams Chandler and Gary Chandler
Rebecca and Mark Collins
Annie and Chris Coons
Heather and EJ Dealy
Dave Dietz
Heather and Ted Dwyer
Meg Erskine and Tim Ozier
Lt. Governor Bethany Hall-Long and Dana Armon Long
Debbie and JB Hersch
Stephanie and Kevin Jablow
Sue Ann Kane
Kathy and Mike Kinnard
Jennifer and Steve Kochie
Morgan and Jake Miller
Laura Loveland Milligan
Danielle and Michael Nowaczyk
Nicole and Jaime Pickles
Gina and Philip Pike
Anne Martelli, DMD and Adam Raben, MD
Marcia and Larry Raniere
Maureen Rhodes
Lindsay Romak, MD
Julie and Will Sheppard
Susan Snodgrass and Jon Sloss
Paula and Bill Swain
Carolyn Depew-Swayze