When:
June 3, 2023 – June 9, 2023
all-day
2023-06-03T00:00:00-04:00
2023-06-10T00:00:00-04:00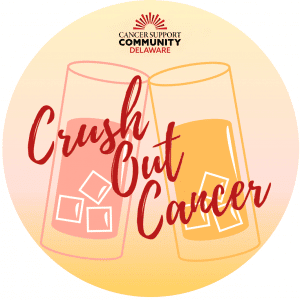 Cancer Support Community Delaware (CSCDE) is pleased to announce the return of our 8th Annual Crush Out Cancer Weekend! In 2022, we raised almost $9,000 with the help of our amazing community partners! This year, we have a goal of $10,000! Can YOU help us crush our goal?
SAVE THE DATE! Saturday, June 3 and Sunday, June 4, 2023 – we need as many restaurants statewide to join us to kick off our celebration of the MANY survivors within our community. We also need people to head out to your favorite local watering hole to exceed our goal!
What is Crush Out Cancer again?  This widely popular fundraiser unites restaurants and individuals statewide on the first weekend of June to observe National Cancer Survivors Day. Drink and/or food specials are offered to raise critical funds for CSCDE support programs – so that no one faces cancer alone!
Participating Locations and Offers
Sussex County:
Big Chill Surf Cantina (Rehoboth) and Big Chill Beach Club (Bethany Beach) – Donating 50% of All Crush Sales – Featuring Orange & Grapefruit
Crust and Craft (Rehoboth) – Donating 50% of Each Crush Sold – Featuring Strawberry
Bluecoast (Rehoboth) – Donating 50% of Each Crush Sold – Featuring Citrus
Matt's Fish Camp (Lewes) – Donating 50% of Each Crush Sold – Featuring Watermelon
Starboard (Dewey) – Donating $1 for Each Crush Sold – Featuring Live Music 6/4 at 2:30pm and 10pm
Hooked Up (Millville) and Off the Hook (Bethany Beach) – Donating $1 for Each Crush Sold – Featuring Competition between Hooked Up & Off the Hook for Most Sales. Support your favorite server!
Bethany Blues (Lewes and Bethany locations) – Donating $1 Per Crush – Featuring Orange, Grapefruit, Lemon, and Bourbon Crushes with Live Music Saturday in Lewes at 8:30pm and during Saturday Happy Hours in Bethany
Dockside Marina (Indian River Marina) – Donating $1 Per Crush
Mangos (Bethany Beach) – Donating 10% of all Mangorita Sales.
Bethany Brewing (Ocean View) – Donating $1 for every drink sold between 2PM – 6PM on Saturday & Sunday
Kent & New Castle Counties:
Bally's Casino (Dover) – Donating $1 for Each Crush Sold at Jerry Longo's and Sugar Factory
Catherine Rooney's (Wilmington) – Donating $1 for each Crush sold from Summer Crush Menu
Mispillion River Brewing (Milford) – Donating 10% of all World War Crushes sold. Live music Saturday.
Bellefonte Brewing Co (Wilmington) – Donating $1 for Each Crush Sold Regardless of Flavor – Featuring Orange, Mango, Strawberry, and Grapefruit
Trolley Tap House (Wilmington) – Donating $1 for Each Crush Sold from Summer Crush Menu – Featuring Orange, Grapefruit, Strawberry Lemonade, Mango Jalapeno, Key Lime Pie, and Garden Crush