When:
2022-06-25T00:00:00-04:00
2022-06-26T00:00:00-04:00
Where:
Milton Memorial Park
115 Federal Street
Milton DE 19968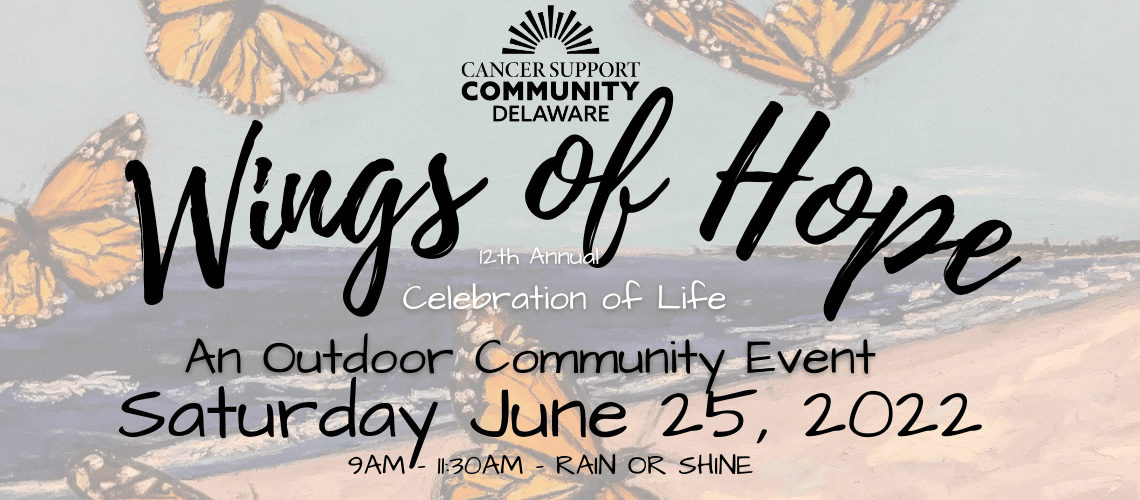 CSCDE is excited to announce the 12th Annual Wings of Hope: A Butterfly Release to be held on June 25, 2022 at Milton Memorial Park. This is a very special and unique celebration of life that has become an inspiration for many in the community who have been touched by cancer.  This memorable event features a live butterfly release to symbolize the special lives lost to cancer. Wings of Hope is an event you will never forget and don't want to miss!
As a part of a repertoire of signature events that have become widely throughout Sussex County, this event is highlighted by the release of beautiful butterflies in recognition of family, friends, and neighbors throughout whose lives have been impacted by cancer.
We are thrilled to bring back vendors, an art walk, entertainment, and more in 2022. We anticipate over 200+ people attend this uplifting event, and over 500 people watching virtually. Check back for more details!
Butterfly Release Update:
Monarch populations are down significantly (80-95%) and breeding is extremely volatile. These levels are so low that the migratory phenomenon to Mexico and coastal California is at risk.
CSCDE and the Wings of Hope planning committee want to do everything in our power to protect and respect our natural surroundings. Therefore, we are aware of this risk and have decided to release Painted Ladies during the ceremony this year.
Good news, Painted lady butterflies are stronger creatures than Monarchs and have more than 100 host plants including thistles, asters, and Joe pye weed. We will be selling seeded wildflower packets at the event and online this year to replace the seeded butterflies, as these contain many of the host plants enabling these butterflies and others species to survive and thrive!
What else can you do to help the Monarchs?
We can take action to protect natural habitat; to plant native milkweed and flowers; avoid pesticides; support wildlife-friendly, local, and organic agriculture; contribute to research efforts via community science; and organize ourselves to push for policy changes.
We appreciate your understanding and look forward to another unforgettable event!
References: 
XercesSociety.org, Butterflyconservation.org
We had a wonderful 2021 event. Thank you to all who came out to attend and support CSCDE!





A BIG thank you to ALL of our generous 2021 sponsors donating items for our auction!
302 Beaches
302 Bicycles
Big Oyster Brewery
BrowseAbout Books
Cape May Lewes Ferry
Kids' Ketch
Mary Kay Independent Consultant – Michele Fletcher
Sea Shell Shop
Sock Avenue
Surf Bagel
Swell Joe Coffee
The Starboard
Tough Luck Tattoo
Vernon Powell
Village Salon & Spa
WaterGirl Farm
Wharton's Gift Shop