When:
2022-06-25T00:00:00-04:00
2022-06-26T00:00:00-04:00
Where:
Milton Memorial Park
115 Federal Street
Milton DE 19968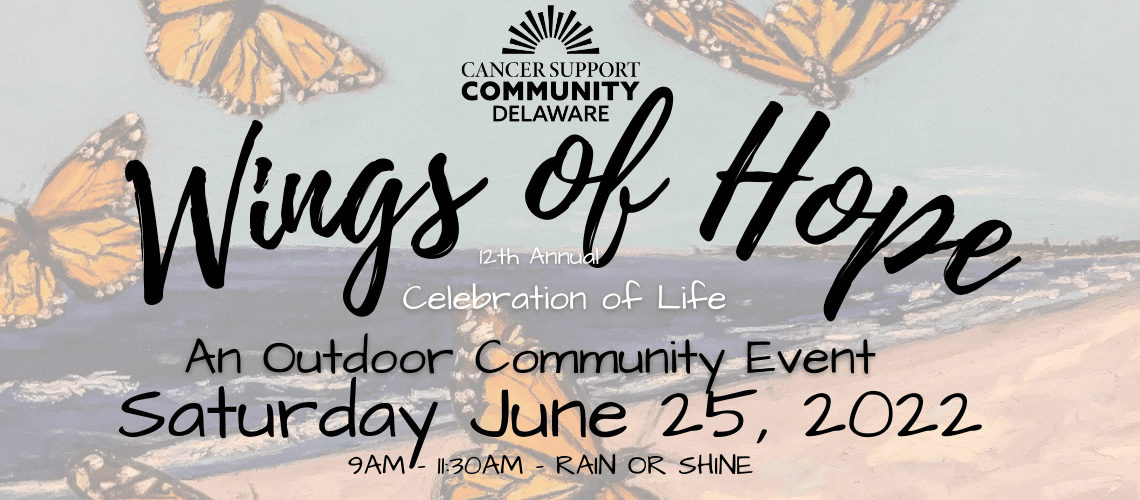 CSCDE held a successful 12th Annual Wings of Hope: A Butterfly Release on June 25, 2022 at Milton Memorial Park. This is a very special and unique celebration of life that has become an inspiration for many in the community who have been touched by cancer.  This memorable event featured a live butterfly release to symbolize the special lives lost to cancer. Wings of Hope is an event you will want to put on your calendar every year!
As a part of a repertoire of signature events that have become widely throughout Sussex County, this event is highlighted by the release of beautiful butterflies in recognition of family, friends, and neighbors throughout whose lives have been impacted by cancer.
We were thrilled to bring back vendors, art exhibit, entertainment, and more in 2022. We anticipate over 200+ people attended this uplifting event, and over 500 people watching virtually.
Purchases/Donations:
***Registration has now closed for purchasing butterflies. If you missed the event, you may still purchase merchandise and t-shirts!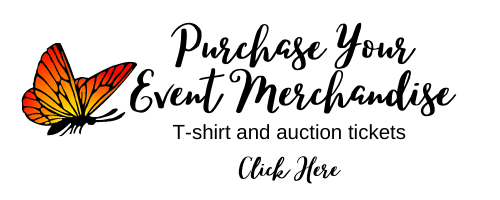 Event Details:
9:00 AM          Welcome! Vendors & Activities Open
9:15 AM          Learn About CSCDE Programs by Kate Antisavage & Erika Narducci
9:30 AM          Milton Theatre Performs
10:00 AM        Sara 'Songbird' Freih Sings
10:30 AM        Ceremony Begins / Opening Remarks by Nicole Pickles
11:00-10 AM   Countdown to Butterfly Release (time is approximate)
Butterfly Release Update:
Monarch populations are down significantly (80-95%) and breeding is extremely volatile. These levels are so low that the migratory phenomenon to Mexico and coastal California is at risk.
CSCDE and the Wings of Hope planning committee want to do everything in our power to protect and respect our natural surroundings. Therefore, we are aware of this risk and have decided to release Painted Ladies during the ceremony this year.
Good news, Painted lady butterflies are stronger creatures than Monarchs and have more than 100 host plants including thistles, asters, and Joe pye weed. We will be selling seeded wildflower packets at the event and online this year to replace the seeded butterflies, as these contain many of the host plants enabling these butterflies and others species to survive and thrive!
What else can you do to help the Monarchs?
We can take action to protect natural habitat; to plant native milkweed and flowers; avoid pesticides; support wildlife-friendly, local, and organic agriculture; contribute to research efforts via community science; and organize ourselves to push for policy changes.
We appreciate your understanding and look forward to another unforgettable event!
References: 
XercesSociety.org, Butterflyconservation.org
A BIG thank you to ALL of our generous 2022 donation items from the following:
302 Bicycles
Christmas Spirit
Giant
Harris Teeter
Irish Eyes
Mary Kay Independent Consultant – Connie Mauro
The Mercantile
Sea Shell Shop
Surf Bagel
Swell Joe Coffee
The Starboard
Tough Luck Tattoo
Vernon Powell
WaterGirl Farm
Center for Inland Bays Garden Center
We look forward to a lovely event in 2023!


---
The following are our respected Honorees:
All Cancer Patients
All Caregivers
All Survivors
All Those No Longer With Us
Anyone on This journey
Alice Barnett          Susan Baseman
Eileen Bedman          Rozi Berberian
Nelson Betts          Harry & Annie Betts
Parnell Biles          Marlene Bischoff
Nancy Bischoff          Father of Kristina Blackburn Blackburn
Sharon Bottura          Jesse Briner
Marlene Brown          Grace Bucklin
Frances Cameron          Sharron Cannella
May Cannella          Linda, Sue and Nancy of the Cape Artists
Wayne Catchpole        Don Coburn
Sharon Cooper          Richard A Cordrey
Faye Crossgrove          Jackie Crowley
Jerry Dalsey          Anthony DeLuca
Larry Demere          Joseph DeViva/DUKE my forever friend
Lee Dogoloff          Shawn Donnelly
Patricia Dvornick          The Many Friends of Lisa Eline Eline
William Farrow          Sharon Farrow
Linda Federico          RoseMary Fetterman
William P Fetterman Sr.          Fabiola Fiore
Francoise, Renee, Philippe Louarn Dupres, Nadjar, Gaeta         
Brooke T Freeman          Friends of Mindy 
Bonnie Futcher          Edythe Garman
Pastor John G          Louise George          
Father of Jon Garvey Garvey          Nancy Elizabeth Grimm   
Mathias Giordano          Anita Guzman
Barry Hastings          Dad, AKA Fred Hays Hays
Johnny Hitaffer          Alice Hitaffer
Maryanne Holzapfel          Tony Jackewicz
Leslie Jones          Kristen Kalfin
Sue Ann Kane          Robert Karpin
Robert Konkel          Carol Krebs
Ellen Landon          Mom of Charity Lewis Lewis
Pat, friend of Charity Lewis Lewis          Sharon Lupinski
Jessica Marrone          Diane Marshall
Michael Massey          Regina McCann
Jim McCann          Jane McMahon-Gilly
Dutch Miller          Samuel B Miller
Mildred S. Miller          Debbie Miller Johnson
Betty Millman          Erika Narducci
James Naylor          Penelope Neckowitz
Timothy Nelson          Joseph Ossi
Barbara Perrucci        Phyllis Ann Phillips
John A, Phillips, Sr.          Nicole Pickles
Gina Pike        Christopher Pointer
Anna Pollisino          Rhys Raitz
Courtney Brendan Riordan          Debi Romano
Michelle Sammons          Kelly Scafidi
Ray Schinzel          Antonie Schulz
Elle Shaeffer          Leslie Ann Simon
Dad AKA Leroy Skinner Skinner          Mom AKA Margie Skinner Skinner
Grandparents of Tommy Smith Smith         Evelyn Sobel
Martine Sorensen Diamond          Marian Stumpf
Steve & Pam Szypulski          Nancy Elizabeth Thigpen
Lynn Thompson          Tunnell Cancer Center Staff
Michelle Louise Warren          John & Anna Warrington
Carmen Washington          Marjorie Weiss
Richard Whalen          Jeannie Wittig
Nana Wittig          Rozi Zachowitz
Janice Zimmerman