When:
2021-06-19T00:00:00-04:00
2021-06-20T00:00:00-04:00
Where:
Stango Park
114 3rd St.
Cancer Support Community Delaware is excited to announce the return of our most popular and heartfelt event… Wings of Hope! This unique and memorable event is a perfect opportunity to showcase your support for CSCDE at our largest fundraiser of the year. This event is highlighted by the release of beautiful Monarch butterflies in recognition of family, friends, and neighbors throughout Sussex County whose lives have been impacted by cancer, and is one of our premier events for CSCDE's 25th Anniversary.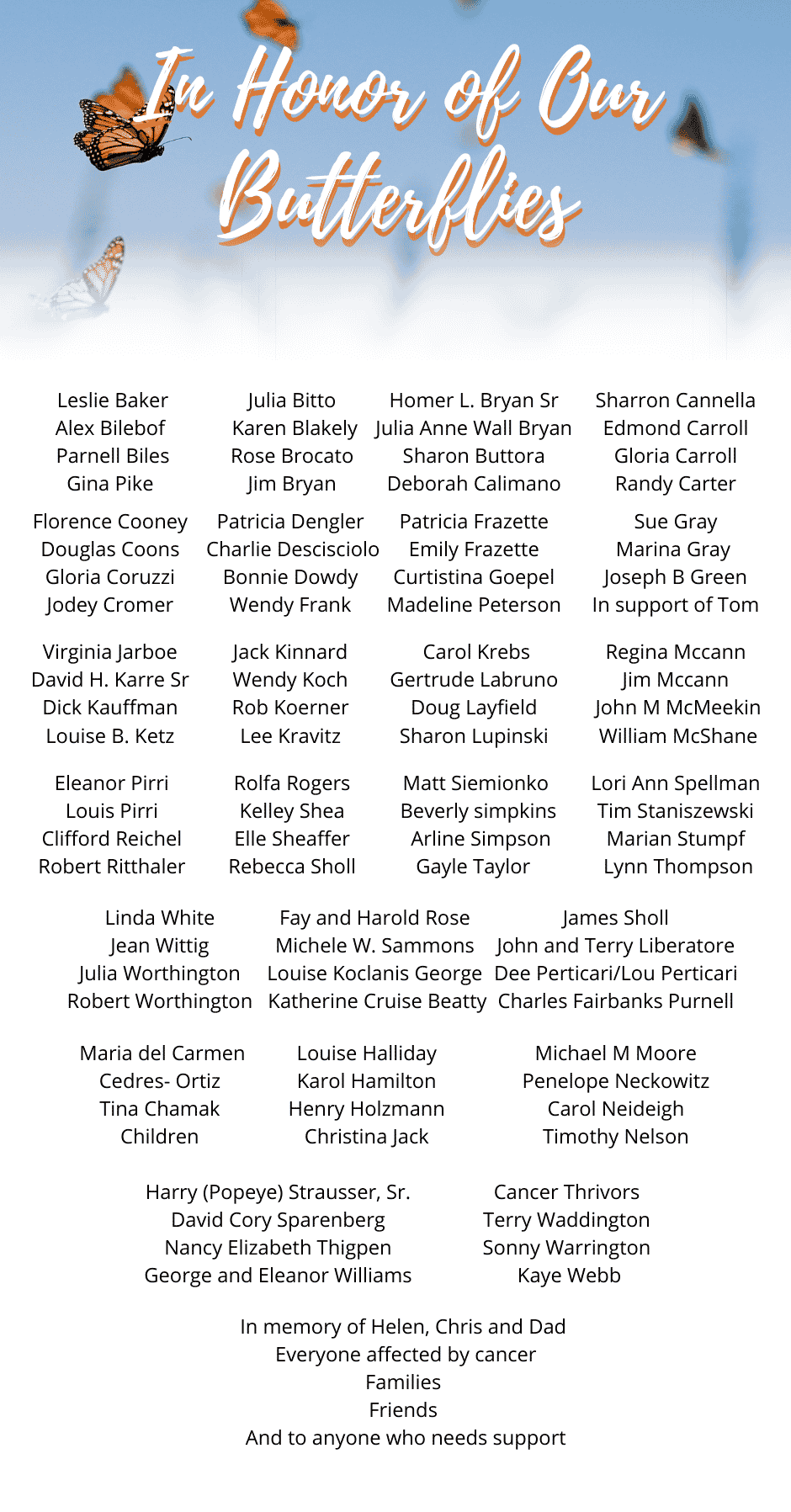 Registration is now CLOSED for LIVE butterflies and merchandise. There will be a limited amount of butterflies available on event day at the butterfly sales table.
Merchandise and auction tickets can still be purchased onsite at the event.
Event Schedule
The event is from 9:00 am – 11:00 am. Details are all a 'flutter' and may change slightly as we get closer to the event.
9:00am – Event Opens
9:30am – Demonstrations, Programs Q & A
10:00am – Opening Remarks
10:00 am – LAST CHANCE TO BUY A LIVE BUTTERFLY!
10:05am – Check Presentation by Cape Henlopen Elks Lodge #2540
10:15am – Chance Auction closes
10:15am – Live Auction begins
10:30am – Welcome remarks by Nicole Pickles, Executive Director CSCDE
10:40am – Poem Reading by Grace Bucklin
10:45am – Honoree Names read aloud
10:55am – Song by Sarah Freih
11:00am – Countdown to release of butterflies
***Friendly reminder to BYO chairs and/or blankets to enjoy a morning in the park!
Information Table
Be sure to stop by the information table at the beginning of the event to grab your swag bag compliments of the parker group and also to grab a water!
Parking / Restrooms
Parking is not encouraged at Lewes Library.  Parking is limited at Junction Breakwater Trail. This is a free parking area. Railroad Ave, Monroe Ave, Kings Hwy, McFee St. Devries & Manila Ave are nearby areas to park. There is no metered parking on these residential side streets. Bike racks are available nearby and carpooling is recommended. Restrooms are available at the Junction Breakwater Trail parking area.
Vendors / Display Tables
Lewes Beekeeping Club, Lewes Fire Dept., Beebe Healthcare, Moving for Melanoma, Aveanna Home & Hospice Care, Totem Farms, Artist James McDevitt, Author Lyn McDonald, Taste of the South Bistro, Kindness Rocks by Lisa Eline, & Worry Dolls by Amelia
Butterflies / Merchandise
A limited amount of butterflies can be purchased at the event. Event merchandise including t-shirts, masks, auction tickets can all be purchased at the event as well.
On event day, all event merchandise will also be available for sale, but sizes and quantities may vary. Cash, check will be accepted at all areas. Credit card will be accepted at three locations throughout the event, we appreciate your patience in advance as these areas may have longer lines.
Chance Auction
Attendees can purchase a number of tickets online or at the event for a set price, then use the tickets to bid on the items on display by dropping them in the basket next to the item. This year, tickets are $20 for 25 tickets, and $30 for 50 tickets. Generous donations have been made by BrowseAbout Books, Kids Ketch, 302 Bicycles, Swell Joe, Vernon Powell and more! See below for a full list of generous donors. All of our baskets are valued at $100 and up!
NEW! Live Auction
Local auctioneer Dick Bryan will be revving up our crowd with some highly anticipated items. Be ready!
NEW! Art Walk!
Our fluttering artists have arrived! We are so pleased with the wonderful response for our first art walk exhibition.
Also, be on the lookout for a Plein-air artist(s) and mosaic artists who will be doing live exhibits throughout the park.
Registration has now closed.
Thank you to ALL of our generous sponsors donating items for our Chance Auction!
302 Beaches
302 Bicycles
Big Oyster Brewery
BrowseAbout Books
Cape May Lewes Ferry
Kids' Ketch
Mary Kay Independent Consultant – Michele Fletcher
Sea Shell Shop
Sock Avenue
Surf Bagel
Swell Joe Coffee
The Starboard
Tough Luck Tattoo
Vernon Powell
Village Salon & Spa
WaterGirl Farm
Wharton's Gift Shop