When:
2022-01-31T00:00:00-05:00
2022-02-01T00:00:00-05:00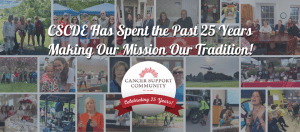 Cancer Support Community Delaware (CSCDE) is celebrating 25 years of providing critical programming for all cancer patients, caregivers and families throughout Delaware. CSCDE is announcing the combination of one of our most popular events "Cocktails for a Cause" with our Fall 25th Anniversary Celebration Appeal and renaming it Cheers to 25 Years, Celebrating the Past…Planning for the Future.
In order to make this special 25th anniversary appeal successful, we are again looking for your generosity, caring and community leadership.
Please click below to become a host committee member or to make a donation!

FAQ's
What is the host committee responsible for?

As a host committee member, your participation is vital as we combine two campaigns into one. You will commit to a $250/single donation or $500/couple donation. You will also grant permission for CSCDE to use your name on the 25th Anniversary Appeal. We ask host committee members to actively invite friends, family and the Delaware Community to make a donation to CSCDE's Cheers to 25 Years!
Please fill out the commitment form to be included in this wonderful community endeavor by Friday, October 8, 2021.
How long do I have to raise funds as a host?
You do not have to directly raise funds, yet we encourage host committee members to share the appeal with friends and family through January 2022. You can direct people to our website and click on the donations button above.

Will there be a live event?
Due to the current climate and circumstances, there will be no live cocktail events in 2021.
Is my donation tax deductible?
Yes! Tax deductible to the fullest extent of the law. CSCDE's tax ID number is 51-0351863.
Will Cocktails for a Cause return next year?
We certainly hope so as we thoroughly enjoy gathering in person, but we will continue to provide updates regarding our event schedule for 2022.
Click above to donate to our current 25th Anniversary appeal/campaign.